Minutes For Historic Cannonís Addition Steering Committee
March 4, 2003
Chairman Steve Spickard called the meeting to order at 7:12. There were 12 in attendance.
The minutes from the December meeting were read and approved with some minor adjustments to spelling.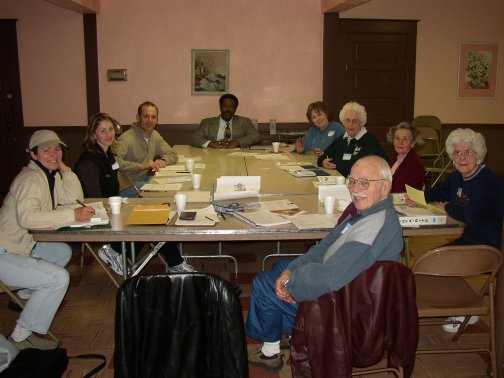 From around the table left to right: Sue Marion, Staci Bewick, Ted Barnwell, Jerome Green, Shirley Wilson, Edna Meyer, Virginia Schurra, Mary Bronson, and Gene Bronson. Sheila Collins, CW and Steve Spickard are not pictured.
CW was our guest speaker from RSVP Retired Seniors Volunteer Project. She spoke to us about the annual Spring House Greening program. Last year, 16 tons of hazardous household waste was collected. In 2001, 11.9 tons was taken out of senior citizens and developmentally challenged people's homes. Training will be held again at the COP SHOP SW on 6th and Maple on April 15th at 7 PM .This years Spring House Greening will be on April 19th at 8:00 AM. There will be a fun celebration at the West Central Community Center after the pick up. Once again, Cannonís Addition CDN will be placing doorknob notices between April 1 and 12th. A list from last year's assignments for this was passed around and assigned. We will get these notices from CW shortly.

A letter from Laura Mincks was read as she was unable to attend the meeting. In her note, she explained that she would soon be leaving the position of CDNC coordinator. She also noted; the sidewalk inventory list was submitted sucessfully into the CDNC Office. The graphic work that she worked on was included and discussed for font size. A motion was made by Sue Marion and seconded by Ted Barnwell to push the process forward when the font issue was ironed out with Laura. This was unanimously approved.

The issue of the COP SHOP SW request for funds was postponed until next months meeting when Laura Mincks and John Downes can hopefully attend.

Clarification of committees was discussed. History committee will be comprised of Sue Marion and Ted Barnwell. Social committee will be made up of Steve Spickard , Shirley Wilson and Edna Meyer.

The chairman advised us that Virginia from the Womenís Club where our meetings are held, needs to employ people for yard work setting up and taking down tables and chairs. It was suggested by many that the guys in the numerous half way houses in our neighborhood be asked.

The Cannons Addition Renewable Resource Project was discussed. Chairman Steve Spickard proposed that we have the annual leaf drop off in the flat area north of the playground. This will enrich the soil. The area will provide a real community garden in the years to come, save thousands of dollars and reduce the amount of fossil fuel needed to remove leaves from the area. Sheila Collins mentioned reforestation of the cliffs. To explore community gardens please enter http://communitygarden.org
Chairman Steve suggested we adopt a theme song, "Spokane", performed by Doug Clark of "The Trailer Park Girls" Click on Doug to hear or download the tune. The outcome of the suggestion is to be determined.

We took this picture after the meeting at the Satellite where the girls were performing. One young lady was so taken with the music she danced on the bar.
Mary Bronson passed around a Code Enforcement Complaint Form petition in regards to the vacant lot on South East corner of Fifth and Walnut. A motion was made by Gene Bronson to officially deliver this petition for maximum outcome was made and seconded and then unanimously passed by all. To that end we have created this page to explore visual pollution in our neighborhood.

Submitted by Sue Marion -- This page is posted on our web site: cannonsaddition.tripod.com

Approved 4/1/'03