Proposed Minutes For Historic Cannonís Addition Community Development Steering Committee
July 1, 2003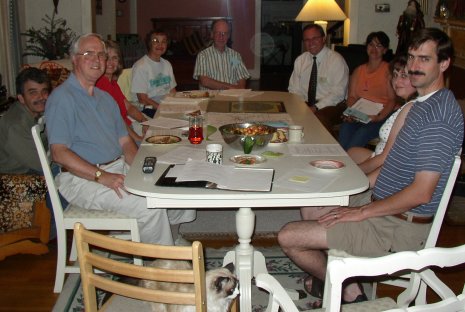 In the foreground is Lucky, guest cat. To her left and clockwise around the table is former chairman, John Downes, Tom Hemken, Sue Downes, Betty Nichols, Bud Hull, Tom Grant, Rita Clark, Rachael and Tim Martin.
The meeting was called to order at 7:03 PM by Chairman Steve Spickard. There were 10 in attendance.
The minutes from the June Meeting were read and approved. Sue Downes moved John Downes second.
Our Guest Speaker was Tom Grant, Mayoral Candidate. See his page at: http://www.tomgrantformayor.org
The pad and park bench, issues was addressed. A letter was written to the CD board requesting the funds be released to do the work. When Steve spoke with Tony Madunich and Taylor Bresler of the Spokane Park department they were awaiting CD notification. Our Park department may be explored at: http://www.spokaneparks.org
The sidewalk repair list was mentioned. It can be found at: http://cannonsaddition.tripod.com/sidewk03.htm. The preconstruction meeting was held today at 1 PM. John Downes attended and reported that work will commence start in Hillyard and work south. We may expect repairs in August.
The Renewable Resource Project at and around Polly Judd Park was discussed. Much of the area is land fill from Expo '74 construction. Steve suggested it could be a climbing facility. Tom Grant mentioned the Spokane area has a wide variety of climbing areas.
Members are also invited to a City wide Community Development Pot luck on July 10th from 5 to 7 at Grant Park in the East Central Neighborhood.
John Downes moved we request the CD Board extend our CD neighborhood. The area to be added is bounded by the following streets: 7th, Monroe, 9th, and Cedar. The motion was seconded by Tom Hemken and passed without objection.
The sign is on hold until we get the traffic construction completed at tenth and Maple.
A motion to adjourn was made by John Downes second by Bud Hull and passed. The meeting was adjourned at 9:00.
Submitted by Steve Spickard, Chair.